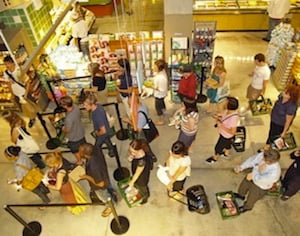 J.C. Penney's (NYSE:JCP) moment of truth is approaching. Chief Executive Officer Ron Johnson was charged with transforming the retailer when he joined the company last February, but his efforts to steer J.C. Penney away from its image as a discounter contributed to a 13 percent drop in customer traffic and a 25 percent fall in revenues in fiscal 2012.
Once the retailer was the go-to place for home products like bath towels and window treatments, and with his plan to redesign J.C. Penney into a cluster of approximately 100 boutiques, Johnson is aiming to recapture that reputation. On April 5, the struggling department store chain will open its first new home goods boutique — a launch that even Johnson has deemed "pivotal" to his efforts to turnaround the company's business, as Reuters reported.
While Johnson first made his name pioneering the "cheap chic" esthetic at Target (NYSE:TGT), he now faces an ultimatum from J.C. Penney's board of directors: reverse falling sales or risk losing his job.
The new home products boutiques — which will be set up in 500 of its 1,100 stores — will feature designers like Jonathan Adler and Michael Graves. By the time the renovations are completed in late May, the company plans to have 20 such boutiques in place, with Sir Terence Conran's furniture shops in 225 of its stores. Other brands to be incorporated into the boutique motif are coffee-press maker Bodum and Martha Stewart Living Omnimedia (NYSE:MSO) — if the company's legal dispute with Macy's (NYSE:M) is resolved…