News that home builders launched new construction projects in December at the fastest pace since the summer of 2008 and that the number of weekly unemployment benefit applications fell to a five-year low last week had a remarkable effect on the stock market on Thursday.
Stocks jumped upward, leading Standard and Poor's 500 stock index to close at a new five-year high. The exchange ended the day up 8.32 points, or 0.6 percent, at 1,480.94. The Dow Jones industrial average hit a five-year high as well, but the exchange gave up some of its gains and closed short of the high, up 0.6 percent at 13,596.02. The Nasdaq also gained 0.6 percent, and the composite closed up 18.46 points, at 3,136.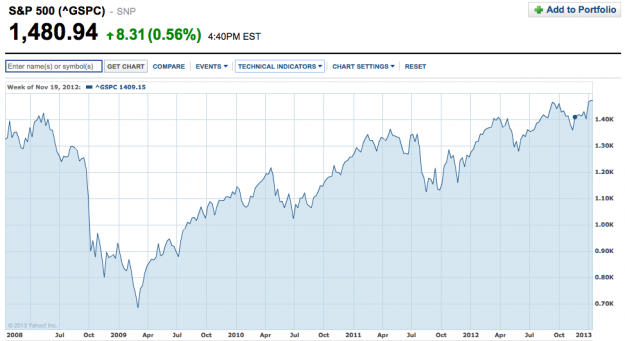 Start 2013 better than ever by saving time and making money with your Limited Time Offer for our highly-acclaimed Stock Picker Newsletter. Click here for our fresh Feature Stock Pick now!