The U.S. economy continued to add jobs in December, but not enough to spark worries about the Federal Reserve changing its stance on ultra-low interest rates.
Nonfarm payrolls increased by 155,000 workers last month, according to the Labor Department. The figure was mostly in line with expectations, as the median estimate of 82 economists surveyed by Bloomberg called for a gain of 152,000. Meanwhile, economists surveyed by Dow Jones Newswires expected an increase of 160,000.
Over the course of 2012, the economy added an average of 153,000 jobs per month. However, this is roughly the amount needed just to maintain the current high unemployment rate. In December, the headline unemployment rate was 7.8 percent, unchanged from the prior month since November was revised higher from 7.7 percent to 7.8 percent. The U6 unemployment rate, which includes job seekers and those stuck in part-time jobs, is still above 14 percent.
Catalysts are critical to discovering winning stocks. Check out our newest CHEAT SHEET stock picks now.
Last month, the Federal Open Market Committee launched a fourth round of quantitative easing. As expected, the central bank said it would purchase $45 billion in long-term Treasuries each month, in addition to its previously announced QE-to-infinity-and-beyond that buys $40 billion in mortgage-backed securities each month. The Federal Reserve also took the unprecedented step of pledging to keep interest rates at record lows until at least as long as the unemployment rate remains above 6.5 percent. The central bank implemented a zero interest rate policy in December 2008, and its own economic outlook does not project an unemployment rate under 6.5 percent until 2015.
Despite recent concerns over the Federal Reserve scaling back on massive bond purchases, the central bank looks set to keep its record low interest rate policy for the foreseeable future. Even if the headline unemployment rate manages to decline under 6.5 percent, the central bank has said it will take other factors such as labor force participation into consideration. The labor force participation rate, which is the percentage of the working age population in the labor force, continues to remain at multi-year lows, artificially lowering the headline unemployment rate. As the chart below from Zero Hedge shows, the labor force participate rate, currently at 63.6 percent, is well below the 66 percent to 67 percent range seen for the two decades prior to the financial crisis.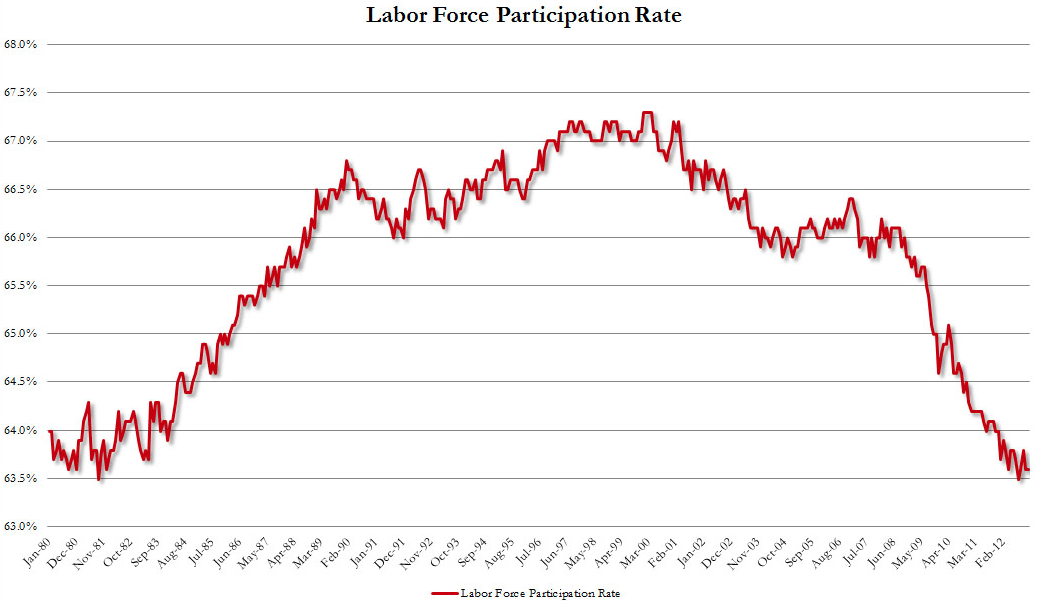 Investor Insight: Is Gold Becoming More Convenient?