Krispy Kreme Doughnuts (NYSE:KKD): Closing Price $10.92
Krispy Kreme Doughnuts and Jamba (NASDAQ:JMBA) could be the next takeover targets among restaurants and coffee companies, according to Bloomberg. Last year, purchases of American restaurant, tea and coffee companies  hit $6.1 billion, marking the highest level since 2008. Deals are increasing as sales growth at coffee and snack shops are predicted to surpass fast- food chains through 2017, say data from IBISWorld.  Shares closed down 2.06 percent on the day at $10.92, having been traded in a 52-week range of $5.86 to $11.18.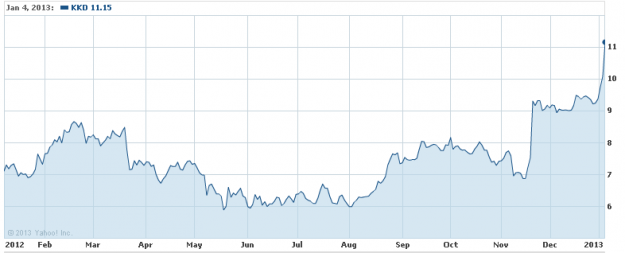 Save time and make money with our LOWEST ADVERTISED PRICE EVER to help you achieve your financial goals in 2013. This is a LIMITED TIME OFFER, so get your Stock Picker Newsletter now!