priceline.com Incorporated (NASDAQ:PCLN): Current Price: $706.01
According to Piper Jaffray, priceline.com reported strong Q4 results along with accelerating bookings growth. The firm keeps its Overweight rating and has increased its price target to $800 on the stock.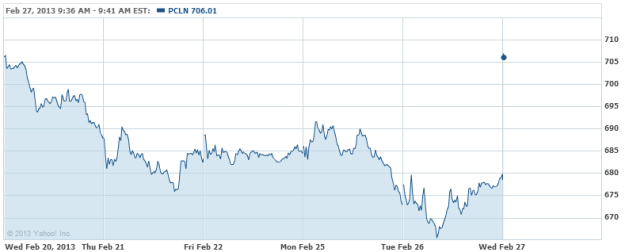 MAKO Surgical Corp. (NASDAQ:MAKO): Current Price: $11.86
William Blair is convinced that MAKO Surgical's 2013 procedure guidance is solid and is mainly in-line with expectations. The firm still thinks that MAKO has developed the best robotically assisted orthopedic system available and views the stock's valuation as reasonable at current levels. William Blair reiterates its Outperform rating the stock after the company's Q4 results.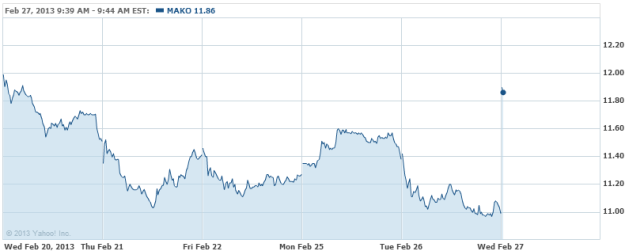 JPMorgan Chase & Co. (NYSE:JPM): Current Price: $48.26
The company's 2013 earnings estimate has been increased by Citigroup to $5.60 from $5.45 due to JPMorgan's new guidance for $1 billion of Card reserve releases in 2013. Citi views JPMorgan's organic growth as being on track after the company's investor day. The firm believes that JPMorgan is among the most attractively valued banks, and it keeps its Buy rating and a $53 price target on the stock.

Summit Hotel Properties Inc (NYSE:INN): Current Price: $9.53
Summit reported higher Q4 adjusted FFO than predicted and provided in-line FY13 adjusted FFO guidance, influencing Cantor to believe that Summit offers a compelling combination of possible share appreciation and an attractive dividend yield. The firm keeps its Buy rating on the stock.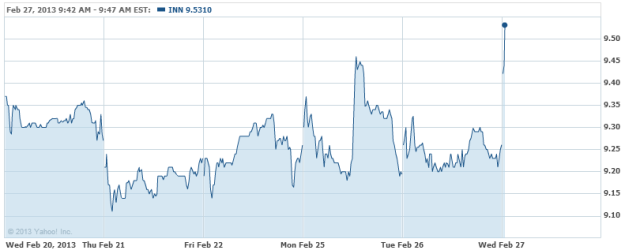 Linkedin Corporation (NYSE:LNKD): Current Price: $162.37
Evercore predicts that Linkedin's multiple will expand towards its software peers driven by revenue growth, business mix, gross margins, and OCF. The firm gives the shares an Overweight rating.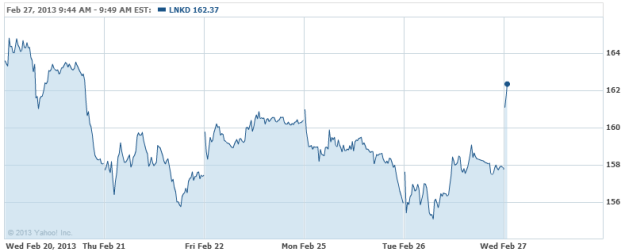 Don't Miss: February Car Sales Forecast Suggests Strong 2013 for the Auto Industry.