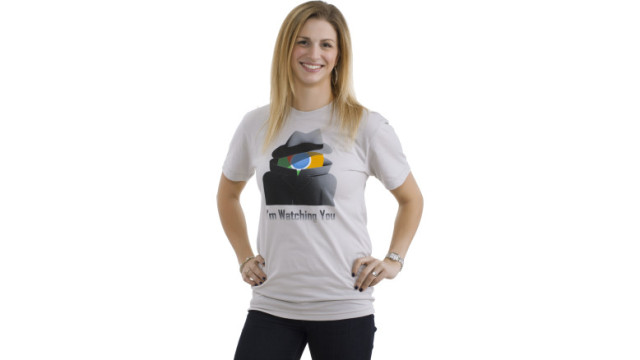 Microsoft (NASDAQ:MSFT) has been hitting Google (NASDAQ:GOOG) hard with its "Scroogled" efforts, a website that functions as both a Microsoft Bing shopping ad and part Google privacy invasion warning. The Scroogled website brings you all the latest news on Google's Gmail privacy concerns, the claim that Google "spams your inbox," and shows how the company only displays shopping results from paid ads. "We say that when you limit choices and rank them by payment, consumers get Scroogled. For an honest search result, try Bing," reads the website.
Microsoft's anti-Google site is also offering merchandise, resulting in all sorts of responses from Google. "Microsoft's latest venture comes as no surprise. Competition in the wearable space really is heating up," one Google spokesperson said to MarketWatch.
Purchasable Scroogled gear includes an "I'm Watching You" Chrome emblem in a trench coat on T-shirt, a "Step into our web" T-shirt, a "Keep calm while we steal your data" coffee mug, and others. Items are available via the Microsoft online store linked to through Scroogled.com. Google employees are, amusingly, big fans of the products, according to Forbes.
"I desperately want a Scroogled T-Shirt to wear to work, but you have to have a Microsoft Account to buy one," one Google systems engineer wrote. "Really, MS? Your store that makes fun of the competition's need to have user information requires a buyer to give you all their information to buy a T-shirt."