Harry Winston (NYSE:HWD): Current Price $14.70
The Canadian Harry Winston (NYSE:HWD) watch and jewelry brand has been acquired by Swatch Group AG, Switzerland's largest watch maker, for approximately $750 million, plus debt of about $250 million. About 500 employees across the world and the Harry Winston production facility in Geneva are included in the deal. The transaction provides Harry Winston Diamond Corp a "sound return" on its original investment in the brand, and frees it up to look again at diamond resource opportunities that would enable it to grow its business of supplying diamond roughs to the global market. As for Swatch, the acquisition of the brand "brilliantly complements" the prestige segment in its portfolio.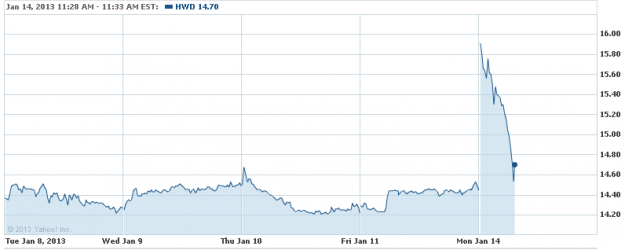 Start 2013 better than ever by saving time and making money with your Limited Time Offer for our highly-acclaimed Stock Picker Newsletter. Click here for our fresh Feature Stock Pick now!