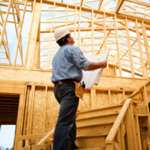 The U.S. Census Bureau announced in a press release Tuesday that new home sales for the month of January have exploded an unprecedented 15.6 percent over the month of December. Yes, you read that correctly.
New home sales numbers came in at a total of 437,000 annualized units for last month, well over December's 378,000, and far beyond projections of 381,000. A new home sale constitutes the construction of a home with a committed buyer. The report noted that it looks like supply is constraining sales, as monthly supply dipped to 4.9 months at the current sales pace from 5.6 months in December. The median price also dropped to $226,400 from $249,800 in December, although this data does not include repeat transactions.
The report concludes by noting that new home sales are trending upwards as the economy regains momentum, aided by low mortgage rates and a stabilized job market. The remaining constraints are tight credit conditions and modest employment growth.
Don't Miss: Goldman Sachs Orders Jobs to the Chopping Block.