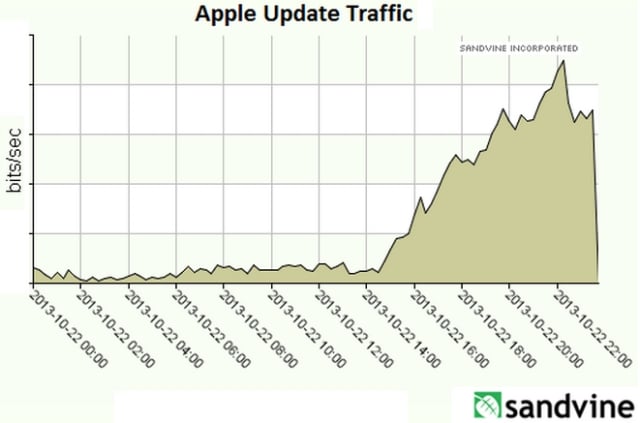 Apple (NASDAQ:AAPL) shocked some industry watchers last month when it announced that its latest desktop operating system, OS X Mavericks, would be available for free. "We want every Mac user to experience the latest features, the most advanced technologies, and the strongest security," explained Apple SVP of software engineering Craig Federighi. "We believe the best way to do this is to begin a new era of personal computing software where OS upgrades are free."
Not surprisingly, many Mac owners rushed to download OS X Mavericks soon after it became available from the Mac App Store on October 22. According to data provided by networking equipment company Sandvine, the free Mavericks release helped fuel a tenfold increase over Apple's typical update traffic levels on the network of one Internet provider in North America.
Although the majority of this traffic was likely due to downloads of the new OS X Mavericks, the data also included update traffic for all of Apple's software.  However, the free desktop operating system update appears to have been the main impetus behind the traffic spike.