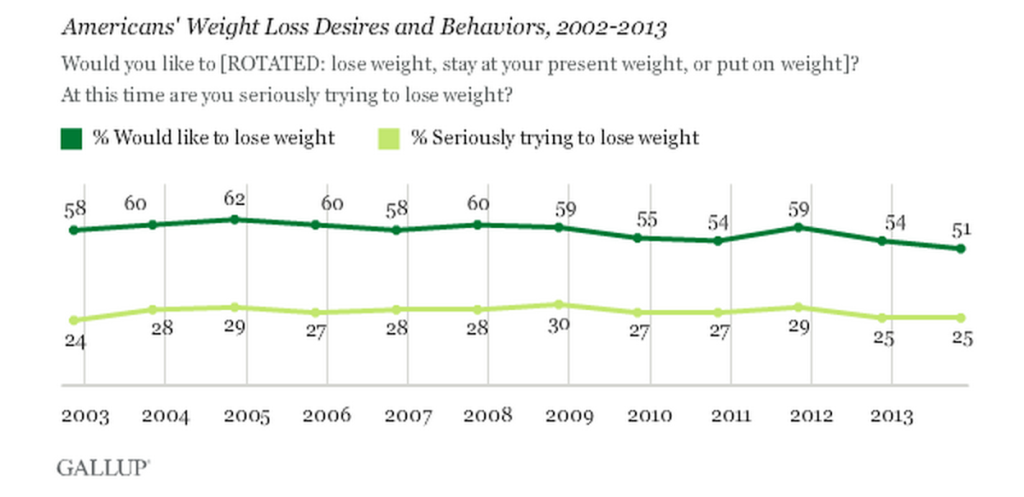 Americans continue to aspire to lose weight, but are not taking actions to do so. Gallup conducted its annual Health and Healthcare survey between November 7 and November 10 this year. According to the survey, 51 percent of Americans want to lose weight, but only 25 percent are working on achieving this goal.
The gap between desire and actual effort has existed for many years, and is slightly less than what it was ten years ago. In 2003, 58 percent of Americans wanted to lose weight, and 24 percent were endeavoring to do so. It is likely that Americans also weigh more now then they did then. Compared to self-reported weights in 1990, Americans are, on average, 15 pounds heavier today.
Although just over half want to lose weight, only 36 percent report that they are overweight. Women are more likely than men to report they are overweight, 39 percent versus 34 percent. Gallup found responders more likely to classify themselves as being "over ideal weight," which 59 percent of adults said they were. The data for "over ideal weight" is closer to, but still far off from, the Centers for Disease Control and Prevention statistics on overweight Americans. According to CDC estimates from 2009-2010, 69.2 percent of adult Americans were "overweight" a category that includes obesity as well.