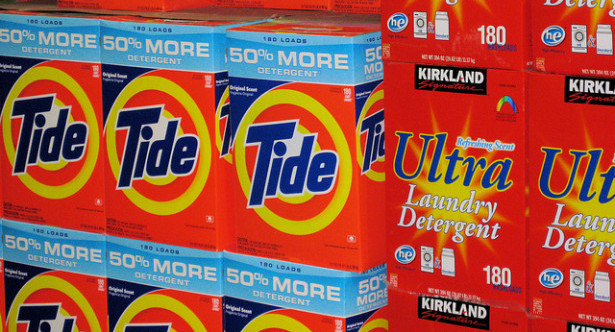 Will consumers explore the high end of products as basic as paper towels and tampons? Procter & Gamble Co. (NYSE:PG) is betting such a strategy will bring it more market share in the second-thought aisles of supermarkets everywhere. However, the consumer staples powerhouse is also testing a lower-price version of its most recognized detergent, a signal the company is willing to come back to earth.
A Wall Street Journal report looked at the more expensive versions of paper towels (Bounty DuraTowel) and feminine products (Tampax Radiant Collection) Procter & Gamble believes consumers will add 20 percent to their bills to acquire. Investors have been skeptical of the average consumer's willingness to head in that direction for items so basic — or, as in the case of paper towels, unnecessary — to daily life.
In fact, Procter & Gamble seemed on the verge of acknowledging customer trends by announcing it would release a lower-price version of its Tide laundry detergent. According to the Cincinnati Business Courier, P&G would situate this less expensive Tide below the current products yet just above other bargain brands like Church & Dwight's (NYSE:CHD) Arm & Hammer detergents. The possibility of cannibalizing its own Tide business is clear.