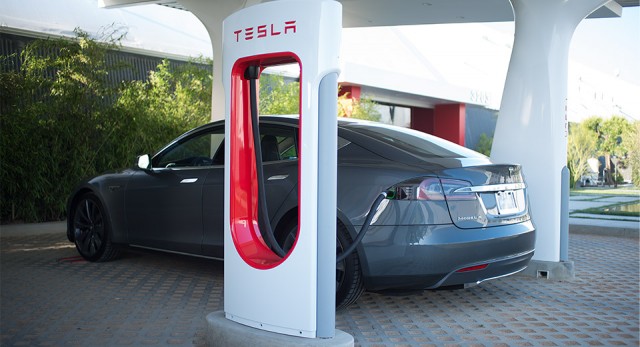 For Tesla Motors (NASDAQ:TSLA), all the world continues to be a stage. In mid-2013, the electric vehicle maker's chief designer told Germany's Auto Bild that the affordable Model E was headed for production in 2015. According to a report in the L.A. Times, the game-changing EV for the masses may make its debut as soon as the Detroit Auto Show in January 2015.
An electric car capable of covering over 200 miles on a single charge would cause a sensation in the auto industry if it cost less than $40,000. So far, only the Tesla Model S (priced at a base of $71,070) has been able to achieve the goal of extended range among lithium battery-powered cars. The test is whether the EV maker can pull off this ambitious goal without sacrificing much in quality.
According to Tesla chief designer Franz von Holzhausen, Tesla doesn't plan to scale down the size of the Model S in any dramatic fashion. Following that concept, the same basic vehicle commanding a price tage above $70K would be widely coveted by consumers around the world. But its biggest impact may be in China and California, the world's largest auto market and largest U.S. market respectively.