Eating food is practically the national pastime, especially considering the amount of money consumers spend on dining out. The Great Recession placed many budgets on a strict diet, but Americans are busting out their wallets and waistlines once again.
From celebrating a special occasion to simply taking a break from cooking at home, people enjoy eating out more than ever. After some weakness in the first three months of the year, restaurant sales hit a new record high in April, according to preliminary figures from the U.S. Census Bureau. Eating and drinking sales totaled a seasonally-adjusted $45.9 billion last month, up 0.8 percent from March and $200 million above the previous high set in December 2012.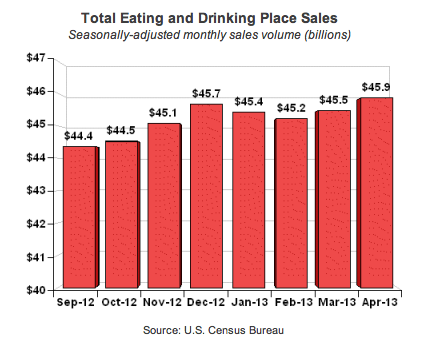 The downtick in the beginning of the year was most likely the result of the sequester and higher taxes taking effect. Bruce Grindy, chief economist at the National Restaurant Association, explains, "After totaling nearly $45.7 billion in December, eating and drinking place sales were dampened somewhat during the first three months of 2013, likely due in part to the impact of the payroll tax hike."
America is the most gluttonous country in the world, with more than a third of its citizens being classified as obese and more than 300,000 restaurants, but there is still untapped potential for the restaurant industry.