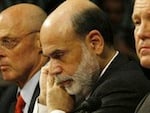 Last week in a speech in Washington, Federal Reserve Chairman Ben Bernanke said that assisting low-income neighborhoods requires a multiprong approach that focuses not only on housing but also on education, jobs, and healthcare.
The Fed Reserve Chairman noted that the "low-income communities were particularly hard hit by the Great Recession," and even though employment and housing has started to improve, the conditions in these lower income neighborhoods are still challenging.
Research from the Minneapolis Federal Research shows that the financial crisis pushed down earnings among low-income  households. The study said that "Earnings among the bottom 20 percent of U.S. wage and salaried workers fell by about 30 percent during the downturn compared with the median income, as workers lost their jobs or left the labor market." Researchers Fabrizio Perri and Joseph Steinberg said that the bottom 20 percent of the U.S. has never done so bad as earnings for that group fell 30 percent as opposed to the median during that time.