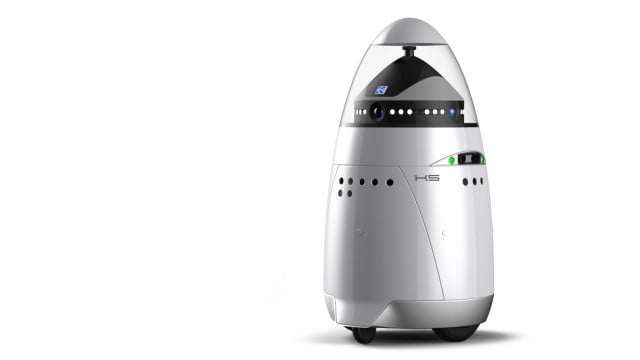 While RoboCop is supposed to take place in a dystopian future, the idea of automated security personnel might not be such a leap, at least for some – William Santana Li and Stacey Dean, notably.
If those two names sound familiar, they should. Li was a former Ford (NYSE:F) executive, while Dean was a retired police officer — but the two gained fame through their purpose-built police car effort, Carbon Motors. Carbon hit the headlines earlier this year when it dissolved into bankruptcy, after its diesel-powered law enforcement vehicle failed to win the business of law enforcement agencies nationwide. So, what's the next step for the duo, now that cars won't work out? Robots. Security-enforcing robots, more specifically.
Through a California-based company called Knightscope, Li and Dean are producing the K5 Autonomous Data Machine, a "technology that will predict and prevent crime with an innovative combination of hardware, software, and social engagement," according to Knightscope's webpage. The K5 will feature infrared-capable video cameras, microphones, radar, lidar (or laser-based "radar", Autoblog explains), and thermal, air-quality and ultrasonic sensors.