The Goldman Sachs Group, Inc. (NYSE:GS):  Current price $139.35
Goldman Sachs Group, Inc. and Morgan Stanley (NYSE:MS) have reached agreements, in principle, with the Federal Reserve Board to pay $557 million in cash payments and other assistance to help mortgage borrowers. These agreements are similar to those announced on January 7 between 10 mortgage servicing companies and the Office of the Comptroller of the Currency and the Federal Reserve Board. Like the other institutions, Goldman Sachs and Morgan Stanley were subject to enforcement actions for deficient practices in mortgage loan servicing and foreclosure processing. The sum paid by Goldman Sachs and Morgan Stanley includes $232 million in direct payments to eligible borrowers and $325 million in other types of assistance such as loan modifications and forgiveness of deficiency judgments.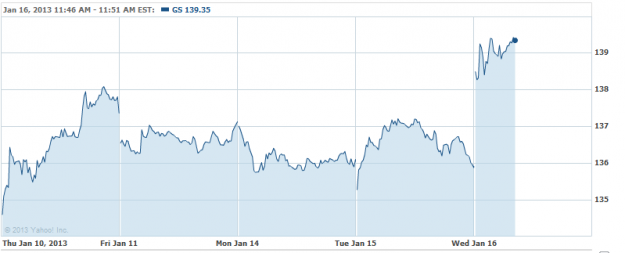 Start 2013 better than ever by saving time and making money with your Limited Time Offer for our highly-acclaimed Stock Picker Newsletter. Click here for our fresh Feature Stock Pick now!