OMG, when is Facebook's (NASDAQ:FB) stock going to stop crashing?? I used basic math and logic to conclude Facebook shares will, at the very least, pit stop below $20. But what if we want to get super real about Facebook's valuation — you know, in a Benjamin Graham, Warren Buffett kind of way? In that case, the price of one Facebook share could fall deep into the single digits. Henry Blodget explains how:
Don't Miss: Investors FROWN at These Facebook Charts
If Facebook traded at Apple (NASDAQ:AAPL) and Google's (NASDAQ:GOOG) valuation based on Wall Street's current estimate for Facebook's 2013 earnings ($0.60), for example, it would trade at $6-$7.

And, remember, the market is still very excited about the prospects for Apple and Google, especially Apple. So I'm just hard-pressed to come up with reasons why Facebook should trade at a multiple that is so vastly much higher than Apple's.
That's the big kicker: Apple and Google are still some of the BEST growth companies in the known universe, but they are still trading at only 10-12x 2013 EPS. Facebook is trading at approximately 35x 2013 EPS, depending on how optimistic you are about their earnings next year. And wait, there's this little fact to consider: Google grew much faster than Facebook in its early years.
And Facebook has a wildly high PE ratio over 70 although growth is decelerating: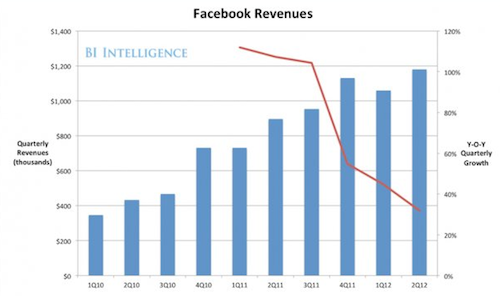 Yes, Facebook might figure out a way to get hundreds of millions of people to open their wallets. And they may one day get more people to click on the ads most of us have been trained to completely ignore. But investing in a lot of 'maybes' and 'you-better-believes' seems like a much longer shot full of execution risk compared to the company doing THIS:
Will we see Facebook shares hit the single digits? Let us know why or why not in the comments below.
Now don't miss this super hot post Facebook CEO: YOU Said Jump, I Said How High >>