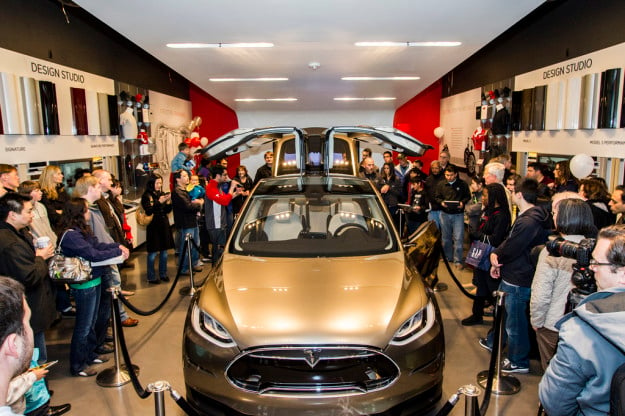 Tesla Motors (NASDAQ:TSLA) has nearly tripled in market value this year, but that is not the measure of success towards which Chief Executive Officer Elon Musk is working. He believes that the company can manufacture its luxury electric vehicles efficiently enough to eventually match the gross profit margin achieved by Volkswagen-owned Porsche. In fact, at Thursday's annual shareholder meeting, the CEO set a goal of attaining a 25 percent gross margin this year.
However, it was just last month that Tesla truly found its financial footing after more than ten years in the business, generating its first quarterly profit ever. The company's Model S sedan gained recognition for quality as well, with Consumer reports giving the vehicle an unprecedented, near-perfect score of 99 out of 100. Together, these two events sent shares on an upward tear; the stock closed the first trading day of the year at $35.36 while it closed Thursday at $97.35. Investor demand — which is clearly evident in the company's increased market value — enabled Tesla to raise $1 billion from selling equity and debt, funds that were then used to retire a $465 million U.S. Energy Department loan nine years early.
With these key milestones met — becoming a profitable company and repaying the government loan — Tesla can now turn its attention to other operational targets, including gross margin. Gross margin, which is the percentage of revenue that remains after production costs are deducted, came in at 17 percent last quarter. The problem is that capital expenditures to support expanded Model S production and to begin assembling the electric Model X sport-utility vehicle next year will hold back profitability.