With shares of EMC Corporation (NYSE:EMC) trading at around $24.35, is EMC an OUTPERFORM, WAIT AND SEE or STAY AWAY? Let's analyze the stock with the relevant sections of our CHEAT SHEET investing framework:
C = Catalyst for the Stock's Movement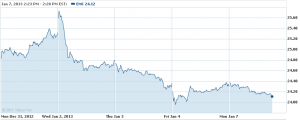 There is a widespread belief that big-tech companies will disappoint next quarter. This relates to the fiscal cliff deal being completed too late, which prevented corporate clients from spending as much as they usually would. Cantor Fitzgerald feels that this will lead to challenging sentiment for EMC in the coming weeks, but that it should ultimately be looked at as a buying opportunity. Cantor Fitzgerald reiterated its Buy rating for EMC, and decreased its target price from $30 to $28.50. Currently, analysts are in love with EMC. There are 36 Buy recommendations, 5 Hold recommendations, and 0 Sell recommendations.
Save time and make money with our LOWEST ADVERTISED PRICE EVER to help you achieve your financial goals in 2013. This is a LIMITED TIME OFFER, so get your Stock Picker Newsletter now!
There has been consistent and significant insider selling for EMC over the past six months. The majority of that selling took place recently, which means that it could have related to fiscal cliff concerns. Some people might say it related to Christmas gifts, but unless insiders planned on purchasing several luxury yachts, that wasn't the case. There were also several large insider sales prior to fiscal cliff concerns gaining momentum. This shouldn't scare anyone away from EMC since it was most likely profit taking, but it should be mentioned.
EMC has a Trailing P/E of 19.94, a Forward P/E of 12.67, double-digit margins, and over $6.5 billion in operating cash flow. Those are some impressive numbers, but they're not the most important ones. Let's take a look at the most important numbers for EMC.