Midsize sedans have proven to be an explosive market so far this year, and as fuel economy figures, ever-increasing utility, and bolder, sportier design themes continue to improve, it's easy to see why.
However, for those who need some added space but are still looking for a sedan-bodied vehicle, there is another class that rests upon the midsize segments: the full-size players, designed for smooth, comfortable performance while putting the need for passenger space first.
USA Today and Cars.com set out to determine the best full-size sedan within a reasonable price frame, explaining: "We set the $38,000 cap, including shipping, taking into account typical transactions and equipment. We had seven contenders, with the automakers provided what they thought was the best configuration under the cap." With some of the segment's high-rollers eclipsing the $100,000 mark, the $38,000 cap — though on the higher range of a typical vehicle price — actually sits more toward the lower end for the class.
For a full methodology of the testing, details on the panel of judges, and full results for each model, you can check out the entire article here.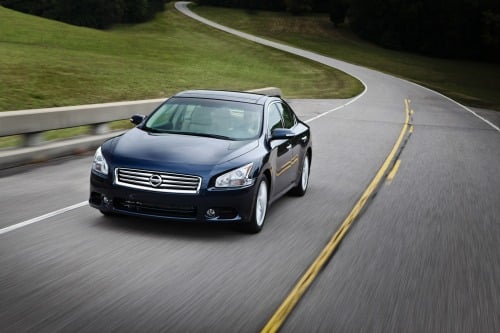 7. Nissan Maxima SV
Coming in seventh out of the seven vehicles, the panel felt that, overall, "What worked a few years ago for the [Nissan] (NSANY.PK) Maxima doesn't anymore," Jennifer Newman, assistant managing editor of Cars.com, said. "It fails to keep up with the competition." The judges enjoyed the performance and handling, "good power and great handling for a car this size," and "plenty of room for front passengers to stretch out," Newman noted.
However, the dated design and features held the Nissan back against its competition. "The nav screen is still partying like it's 1999," said Brian Robinson, a producer on PBS's Motorweek. Others concurred, noting that "this navigation is like the one you would go buy at RadioShack, compared to the others." As tested, the Maxima costs $37,475.