It was another fun-filled week with Mr. Market. The Dow Jones Industrial Average logged its first weekly loss of the new year, finishing just shy of 14,000. Meanwhile, the S&P 500 and Nasdaq both climbed higher for the sixth consecutive week. In fact, the Nasdaq is now at its best level since November 2000.
Here's a weekly recap of technology names making big moves:
LinkedIn (NYSE:LNKD), the world's largest professional network, surged 21.5 percent this past week.
The company reported impressive results for the fourth quarter. Net income surged 67 percent to $11.5 million (10 cents per share), compared to $6.9 million (6 cents per share) a year earlier. Excluding stock-based compensation expenses and other adjustments, earnings per share came in at 35 cents per share, easily beating analysts' expectations of 19 cents per share.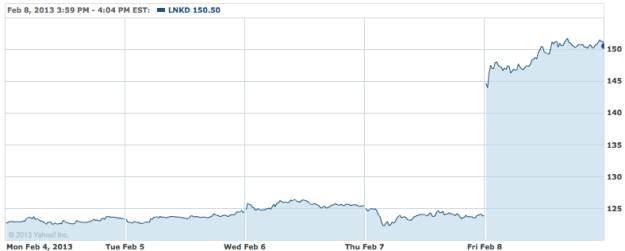 "2012 was a transformative year for LinkedIn," said Jeff Weiner, chief executive officer. "We exited 2011 having successfully revamped our underlying development infrastructure. Based on that investment, we said that 2012 would be a year of accelerated product innovation, and it was. The products we delivered throughout the year drove member engagement and financial results to record levels in the fourth quarter."