For anyone following the automotive market throughout the year, this bit of news should come as no surprise — industry experts and observers are anticipating that the pickup market will break 2 million units sold for 2013 for the first time since 2007.
That number is significant because although it will be the best year for the segment in the past six years, it still falls roughly 1 million shy of the "normal" pre-recession pickup sales climate. USA Today notes that the Edmunds prediction is fairly safe; last year's tally passed 1.9 million, and truck sales are booming this year.
However, it also suggests that as fuel costs continue to creep north, sales of pickups — which fall along the bottom rungs for fuel economy — have seen little deterrence from pricer fuel, as the enormous amount of pent-up demand from 2007 through 2011 continues to pour out. Edmunds.com analyst Michelle Krebs cites "stronger housing and construction markets" as well as "flourishing energy and agricultural sectors," USA Today points out.
And that's beneficial for the manufacturers, too, as pickups offer some of the highest margins in the industry. As per tradition, Ford's (NYSE:F) F-Series has dominated the sales game, routinely ranking as the No. 1 vehicle sold in the U.S. — not truck, but vehicle. Recent refreshes, redesigns, and all-around improvements have seen the pickup market at large become increasingly competitive and successful.
Here are the five trucks that are driving this year's sales performance. As a note, these trucks are not ranked in any way or by any criteria.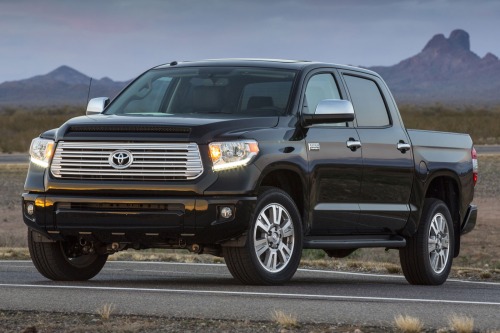 1. Toyota Tundra
With a more aggressive, bold appearance, the refreshed Toyota (NYSE:TM) Tundra "addresses most areas that either caused owners to complain or caused shoppers not to buy, such as cheap-looking and -feeling interior," USA Today notes. Rumors are circulating that Toyota may also be exploring the notion of putting a Cummins-sourced diesel engine on the menu, as well.