The technology industry is one of the most exciting areas of the financial market. Between new products and company rivalries, there never seems to be a shortage of highly debated issues. We are only a few days into the new year, but there are already notable moves being made among top tech names.
Facebook (NASDAQ:FB):
The world's largest social-media giant suffered a plunge after going public in May of last year, but has seen a recent surge in its stock price.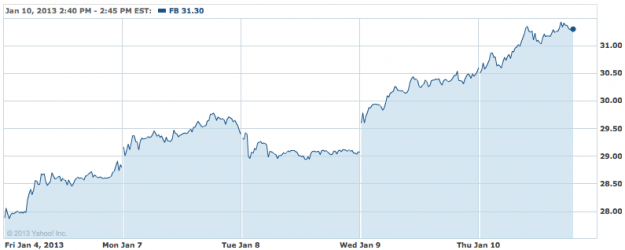 In the past two months, Facebook has jumped more than 60 percent. On Wednesday, shares broke through the $30 level for the first time in six months. The company stirred anticipation and predictions by sending out invitations for a press event next week, which simply stated, "Come and see what we're building." Despite Mark Zuckerberg denying rumors last year, some believe Facebook will unveil a smartphone, while others predict more features on the site, such as music or search.
Other companies are also on the move…
Start 2013 better than ever by saving time and making money with your Limited Time Offer for our highly-acclaimed Stock Picker Newsletter. Get our fresh Feature Stock Pick now!