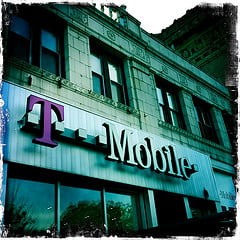 "We're still a wireless company. We're just not going to act like one anymore," wrote Deutsche Telekom's (DTEGY.PK) T-Mobile in an invitation to a mysterious event scheduled for March 26 in New York.
This is a promise that the company has incorporated into its most recent advertising campaign as well.
The company — whose merger with MetroPCS (NYSE:PCS) was just approved by the Federal Communications Commission — is looking to differentiate itself from the competition, which, in the world of smartphones and their accompanying wireless services, is ever increasing.
Earlier this year, T-Mobile's Chief Executive Officer John Legere unveiled a new guiding philosophy for the company's operations; as he noted in an interview with Reuters at the Consumer Electronics Show in January, Legere is now molding the company as the "uncarrier." AT&T (NYSE:T) and Verizon (NYSE:VZ) dominate the telecommunications sector with their duopoly, and in following what has become the industry standard, they both have organized their fees for calling, texting, and data usage into strict contractual plans. But T-Mobile has decided to change the status quo, as is necessary to successfully advertise, create a perceived difference between itself and other companies in the industry, and attract customers from its larger rivals…