Preparing for retirement continues to be a major hurdle for Americans. Life events, higher living costs, and uncertainty can all make the process seem nearly impossible. As the economic landscape changes, people are rethinking their golden years.
Retirement no longer means the end of work. According to a new study from Bank of America's Merrill Lynch, seven out of ten pre-retirees say they will most likely be employed at least some of the time in retirement. As the chart below shows, 39 percent plan to work part-time, while 24 percent will cycle between work and leisure. Only 8 percent of respondents plan to hold a full-time job, and 29 percent claim they will never work again once retiring.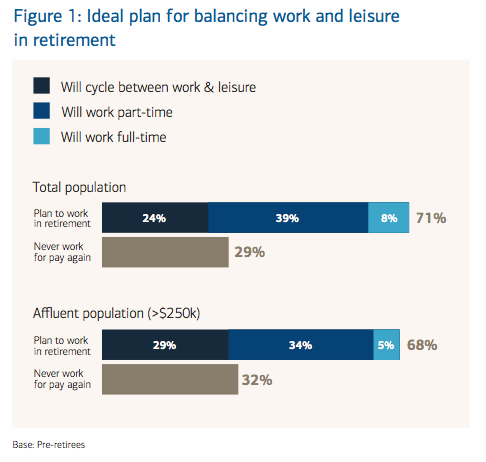 The study was completed earlier this year in partnership with Age Wave, a leader in understanding the aging population. More than 6,300 respondents aged 45 and older were polled.
Working later in life is becoming the gold standard. For example, between 2006 and 2011, the only workforce to show positive growth was the 55 and older crowd. Meanwhile, millions of younger workers left or were removed from the workforce.