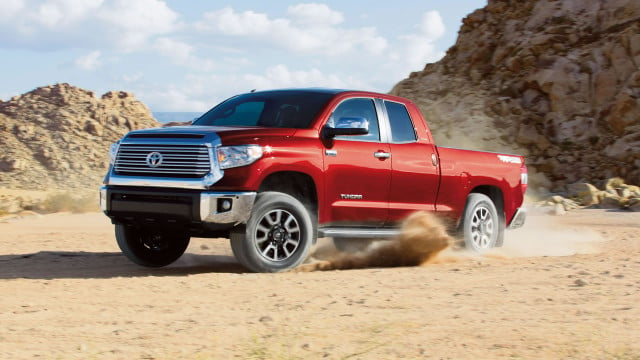 It's impossible to argue that America does not have a passionate love affair with pickup trucks. Month after month, two of the top three best-selling vehicles in the country are generally of the pickup variety, but at least one manufacturer is typically left out in the cold. And that company would be Toyota (NYSE:TM).
The Ford (NYSE:F) F-150, Chevrolet (NYSE:GM) Silverado, and Ram 1500 account for the nation's most popular trucks and frequently lead the monthly best-sellers list, but Toyota's Tundra is rarely found on the same list — if ever. However, there is still an appetite for Toyota's leading workhorse, and enough of one that the company is flirting with increasing its U.S. production capacity, as Toyota's San Antonio plant in Texas is nearly maxed out.
"Dealers are telling us they could sell more Tacomas and Tundras," Toyota Division General Manager Bill Fay told Automotive News. "We are evaluating our footprint and capacity."
The company currently has the capacity to produce 250,000 full-size Tundras and smaller Tacoma pickups as a result of two shifts plus overtime and Saturdays. Toyota's "knockdown" assembly plant in Mexico can push another 50,000 or so Tacomas, "but many of those trucks go to Mexico and Canada," Automotive News reports.