Toyota Motor Corp. (NYSE:TM)
Toyota president Akio Toyoda finally pushed through a long overdue management overhaul at the car maker that left only handpicked personnel manning key positions. The overhaul implemented the retirement of the only three executive vice presidents not appointed by Toyoda himself. The management shake-up was also unique in Japan for its appointment of outside directors, as well as a director who is a foreigner. According to analysts, this could usher in similar appointments at other Japanese companies as they become more global and outward-looking.

Tesla Motors (NASDAQ:TSLA)
Tesla has negotiated with the U.S. Department of Energy to amend the terms of agreement under which it received loans of $465 million for producing electric cars. Increasing realizations from sales of Zero Emission Vehicle credits from its electric cars, as well as unfavorable conversion terms of warrants that form part of the loan agreements and kick in case the loans are defaulted, have driven Tesla to negotiate earlier repayment of these loans. Tesla now wants to pay by December 2017 instead of the originally scheduled 2022. Chief Financial Officer Deepak Ahuja said: "The value of those warrants is very substantial. The terms of the original loan had a very good incentive for us to pay off the loan early. This in some ways formalizes that and avoids the vesting of that warrant."

Mercedes Benz (DDAIF.PK)
The timing of the Chinese New Year in February led to sales of Daimler's Mercedes Benz brand dropping by half  in China, in turn affecting overall brand sales, which declined 5.8 percent to 90,083 vehicles.

Boeing (NYSE:BA)
The U.S. National Transportation Safety Board released an interim factual report summarizing its initial findings on the Japan Airlines battery fire in the Boeing 787 aircraft in Boston. The report provided details of the discovery of the fire, response of firefighters, findings from the examination of the battery, flight recorder data, the 787 electrical power systems certification plan, and a list of current and prospective investigative activities. The board will hold a forum as well as a hearing on the matter in April.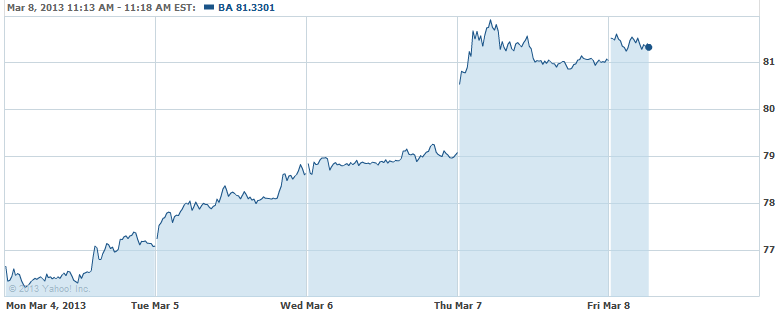 Don't Miss: GM Plans to Hire 4,000 New Employees.