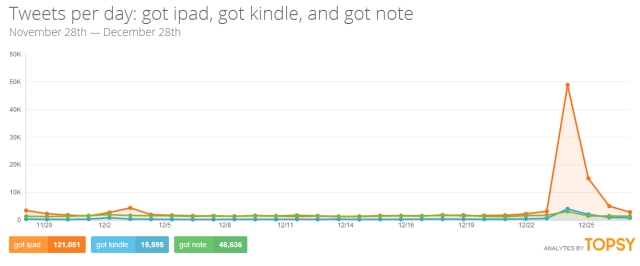 During Apple's (NASDAQ:AAPL) recent fiscal fourth quarter earnings call, CEO Tim Cook boldly predicted that, "it's going to be an iPad Christmas." Data from social search and analytics company Topsy suggests that Cook's holiday prediction may have come true.
Fortune's Philip Elmer-Dewitt recently compiled tweet metrics for the four major tablet brands using Topsy Analytics' Twitter (NYSE:TWTR) search engine function. Elmer-Dewitt searched the phrases "got iPad," "got Kindle," "got Note," and "got Surface" in order to gauge the popularity of each tablet model from Apple, Amazon (NASDAQ:AMZN), Samsung (SSNLF.PK), and Microsoft (NASDAQ:MSFT) on Christmas Day.
Apple's iPad emerged as the clear winner for the number of times that the phrase "got iPad" was tweeted around the Christmas holiday compared to the other tablets. According to Topsy, the phrase "got iPad" came up 121,051 times between November 28 and December 28, over 2.5 times more often than the second-highest mentioned "got Note" phrase. The phrase "got Note" was tweeted a total of 46,636 times, "got Kindle" was tweeted 15,595 times, and "got Surface" was only tweeted 4,182 times.