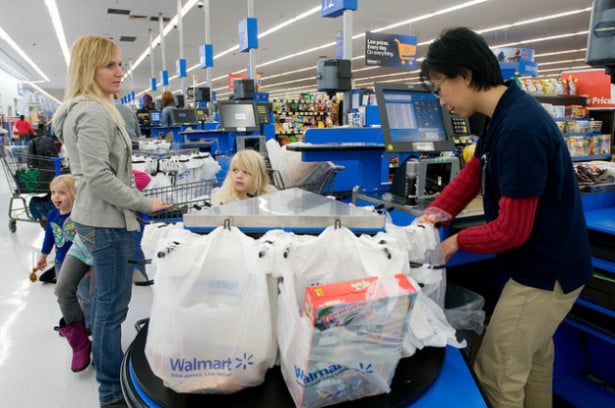 Wal-Mart (NYSE:WMT) has instituted a new policy to ensure that its stores are "staffed appropriately." In recent months, the company has been hiring only temporary workers at many of its stores in the United States, marking the first time the world's largest retailer has made that decision outside of the holiday shopping season.
In February, it was revealed that U.S. Chief Executive Bill Simon thought that "self-inflicted wounds" were Wal-Mart's "biggest risk." This problem became apparent to the rest of the world when Bloomberg reported that the discount retailer did not have enough workers to restock the shelves. In the past five years, the company has added 455 stores in the United Stores, a 13 percent increase, according to regulatory filings. However, the company's employee count has dropped by approximately 20,000 in the same period.
This thinly spread workforce has had widespread consequences. As several interviews with Wal-Mart customers served to prove, shoppers are moving elsewhere. "If it's not on the shelf, I can't buy it," former customer Margaret Hancock told Bloomberg back in March. "You hate to see a company self-destruct, but there are other places to go," she added, noting that Wal-Mart's loss has been a gain for stores like Target (NYSE:TGT) and Safeway (NYSE:SWY).