Thanks to Wells Fargo (NYSE:WFC)'s soaring stock, Berkshire Hathaway (BRK-A) climbed to a high of $155,560.09 in trading shortly after 2 p.m. today; pushing the value of Berkshire's stake in Wells Fargo past the $16 billion mark. Wells Fargo's increase of less than 1 percent pushed its stock to levels not seen in four years.
The chart below details the stock movement for Wells Fargo and Berkshire Hathaway A class shares for March 8.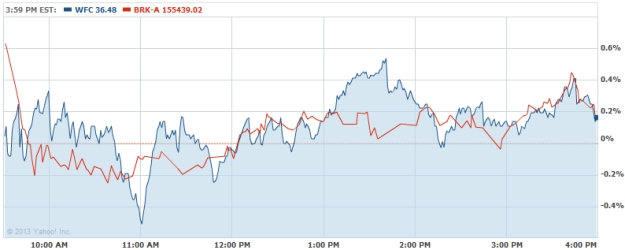 A surge in home-loan refinancing last year has paid off well for Wells Fargo since it has been acquiring a larger share of the mortgage market. Wells Fargo saw record profits of $18.9 billion last year, which has allowed it to steadily increase its quarterly dividend. A recent 3 cent dividend share increase in January brought Wells Fargo's quarterly dividend up to 25 cents a share.