Last week's GDP report from the Bureau of Economic Analysis revised the estimate for Q1 growth sharply downward, from 2.4 percent to 1.8 percent. As the following chart shows, the revision makes the rebound from the slowdown at the end of last year look less robust.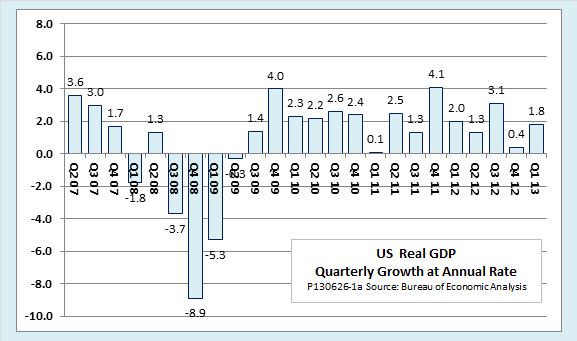 The early estimates for each quarter are based on incomplete data supplemented by extrapolations from historical trends, and revisions are common. The revision announced last week was larger than usual, however. The average revision (without regard for sign) is 0.2 percentage points from the second estimate to the third. This time it was 0.6 points. The change from April's advance estimate of 2.5 percent was even larger. How can we explain it?
One way is to look at the contributions to GDP growth of each sector of the economy. The following table compares the data from the advance estimate to those of the third estimate. It shows that the downward revision affected every part of the economy. Growth of consumer spending, which almost always makes the largest single contribution, was revised downward from 2.24 percentage points to 1.83 percentage points.
The contribution from investment growth fell from 1.56 points to .96 points, with decreases in both fixed and inventory investment. Shrinkage of the government sector, which has had a negative impact on growth throughout the recovery, was more rapid than previously reported. Every sector of government — federal defense and nondefense, state and local — made a negative contribution to growth in Q1.