The Internet continues to evolve and impact how people spend their time. It is available twenty-four hours a day, seven days a week, but a remarkable amount of tasks are done in only a minute.
Intel (NASDAQ:INTC), a company that designs and builds essential technologies for computing devices, provides an interesting snapshot of how much is completed on the Internet in only 60 seconds. Almost 640,000 GB of global IP data is transferred. More than 200 million emails are sent, while 1,300 new mobile users become connected. With the rise of popular Apple (NASDAQ:AAPL) and Samsung (SSNLF.PK) gadgets, 47,000 app downloads occur in only a minute.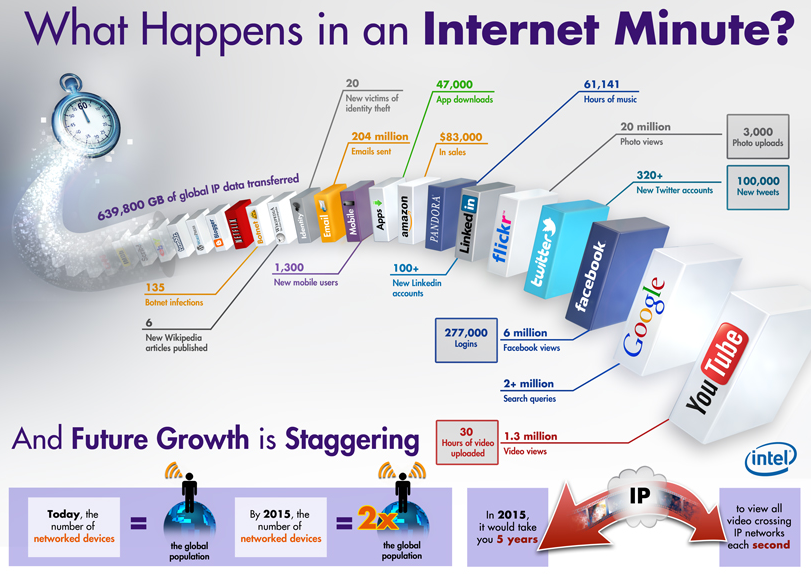 Well-known Internet companies also experience a heavy-amount of usage. Amazon.com (NASDAQ:AMZN) logs $83,000 in sales per minute, while Pandora (NYSE:P) plays 61,141 hours worth of music. Twitter, which recently turned seven years old, experiences 100,000 new tweets and more than 320 new accounts per minute. LinkedIn (NYSE:LNKD) signs more than 100 new accounts, while Flickr gets 20 million photo views. Facebook (NASDAQ:FB), the world's largest social-media company, receives 6 million views and 277,000 logins per minute.
This company is a force to be reckoned with…