In a classic example of stepping over dollars to pick up pennies, chatter is getting louder that the United States could follow Canada's lead and reduce its production of certain coins.
Earlier this month, the Royal Canadian Mint officially ended its distribution of pennies to banks and retailers, in an effort to save money since production costs now exceed their face value. The government estimates that it cost about $11 million a year to supply pennies to the Canadian economy. Now, the big spenders in Washington D.C. may look under the couch cushion for similar savings.
Historic monetary actions and currency devaluations by central banks not only lift precious metals, but also other commodities. The cost of producing pennies and nickels in the United States is on the rise. The two coins, which are mostly made from zinc and copper these days, drained $109.2 million from taxpayers last year, nearly double the amount from just seven years ago, according to the U.S. Mint. As the chart below from Bloomberg shows, this trend does not appear to be changing anytime soon.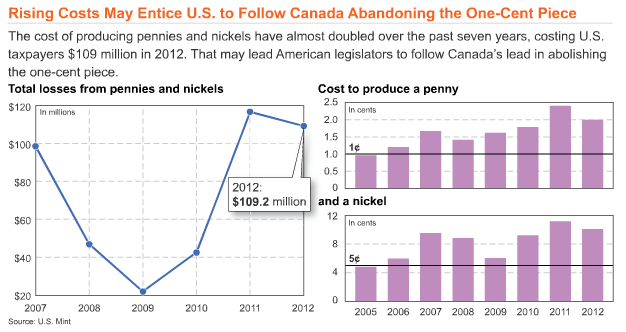 Pennies and nickels have cost more than their face value to produce since 2006, with the red cent currently costing 2 cents to mint, and the nickel more than 10 cents. This has resulted in a loss of at least $436 million.
Jim Kolbe, a former Arizona congressman who wants to abandon the penny and dollar bill, tells Bloomberg, "If you look around in the budget, there aren't a lot of places you can find savings where you don't cut a program and you don't raise anybody's taxes and you can impact the deficit. This is one where you can do that."