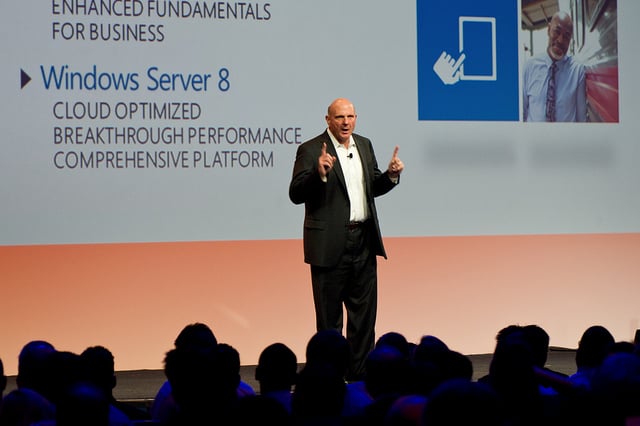 Microsoft (NASDAQ:MSFT) Chief Executive Officer Steven Ballmer told investors at a meeting on Thursday that his biggest regret during his time as CEO was missing out on "the new device form factor called the phone," according to a report from Reuters.
During the early 2000′s, while Apple (NASDAQ:AAPL) was busy at work on its industry-revolutionizing iPhone, Microsoft was too focused on its Windows software to see the opportunity it was missing, Ballmer said. While acknowledging his own mistakes during his time as CEO, Ballmer was also optimistic about the company's future. "We have the tools. There's economic upside here. In the long run, we are almost uniquely poised to seize the opportunity," he said during his presentation. "Today I'm speaking as an investor. You all own Microsoft stock, cheer for it, for God's sake."
Microsoft is planning to stick with Ballmer's restructuring plans, even though he made the surprise announcement last month that he will retire within a year. The restructuring has the company focusing more on devices and services, and top levels of it have already been completed. The reorganization is the biggest change the company has undergone in a decade, and will allow Microsoft to focus more on hardware, like the Xbox and Surface tablets, and Internet-based services, like the cloud-based version of Microsoft Office called Office 365.