After making its S-1 filing with the SEC public a few weeks back, Twitter (NYSE:TWTR) filed an updated to its doc last week, which included Q3 revenues for the quarter ended October 1. As the company prepares for its IPO, these revenue growth numbers are being closely scrutinized, Twitter's valuation will be heavily dependent on whether investors believe they can significantly increase that revenue growth rate going forward.
But the interesting thing is that there are still no Sell Side analyst estimate for Twitter's revenue. Meanwhile, about four months ago we decided to do a little experiment at Estimize by putting Twitter on the platform for estimation. We weren't sure what was going to happen, and what did honestly floored us.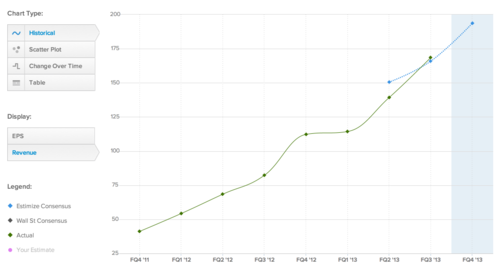 For the 2nd quarter the Estimize consensus from 12 Buy Side and Independent analysts who submitted to Estimize was about $10M off. But for the 3rd quarter, the same 12 analysts were only $2.5M from the actual results reported in the updated S-1 filing.
Now here's the really interesting part. One of the main questions that is always asked about the Estimize data set is, are analysts on the platform just anchoring to the Wall Street consensus, are they really doing any of their own work, or are they just guessing up or down. To be honest, my opinion is that there is definitely a lot of this behavior, and that's fine, because if that represents their sentiment regarding what the company will report, so be it, that's valuable data for everyone.