T = Technicals on the Stock Chart are Strong
Tiffany & Co. has displayed a beautiful uptrend over the last couple of decades. Taking a look at the daily chart below, the stock is currently trading near highs for the year and looks to be coasting towards the previous all-time high level near $84 per share. A price trend and its strength can be identified using key simple moving averages. What are the key moving averages? The 50-day (pink), 100-day (blue), and 200-day (yellow) simple moving averages. Tiffany & Co. is trading above all of its rising key averages which signals a strong uptrend in the price of the stock.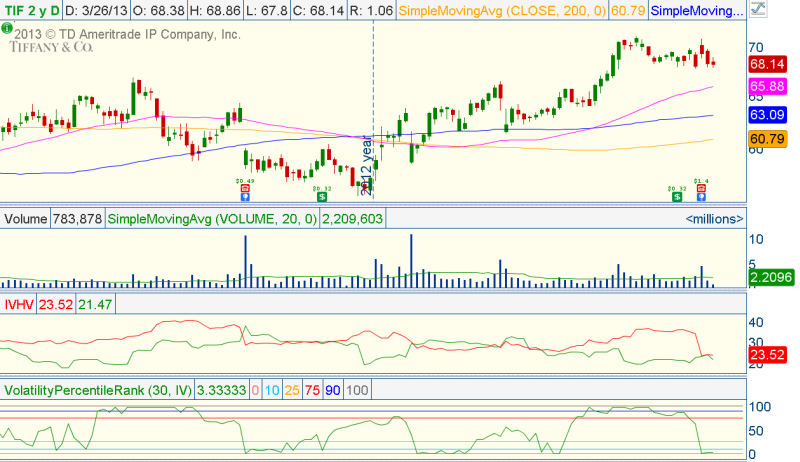 (Source: Thinkorswim)
Taking a look at the implied volatility and implied volatility skew levels of Tiffany & Co. options may help determine if investors are bullish, neutral, or bearish. As seen in the price chart above, the implied volatility (red) of Tiffany & Co. options is at 23.52 percent today which coincides with a third percentile over the last 30 trading days and fifth percentile over the last 90 trading days. What does this mean? This means that investors or traders are buying a very small amount of call and put options contracts, as compared to the last 30 and 90 trading days.
The implied volatility skew of April and May put and call options is at about average. So as of today, there is an average demand from call and put buyers or average supply of call and put sellers, all neutral over the next two months. Investors are buying a minimal amount of call and put option contracts and are leaning neutral over the next two months.
On the next page, let's take a look at the earnings and revenue growth rates.