The New Year brought with it a fiscal cliff tax agreement that helped catalyze a 3 percent rally in the Dow over five trading days. Early excitement has somewhat faded and early euphoria has grown into tepid speculation. Let's take a look at who led the charge out of the gates and whether they will keep up the momentum.
Here are three financial stocks that are beating the index so far in 2013.
3) JPMorgan Chase & Co. (NYSE:JPM)
It's hard not to find something the like about JPMorgan. As one of the most well-respected financial institutions currently reigning on Wall Street, the bank weathered the crisis with grace and recovered from the "London Whale Trade" scandal with nothing more than a black eye. A big, sore black eye, but stock price growth of 27 percent over the past 52 weeks is a good way to win shareholder forgiveness.
As much as $3 billion in recently-approved share repurchases don't hurt, either. CEO Jamie Dimon has made it clear that while mistakes were made, he still heads one of the most competent banks in town.
Shares haven't lost any of their 2012 momentum and have climbed 3.87 percent this year to date.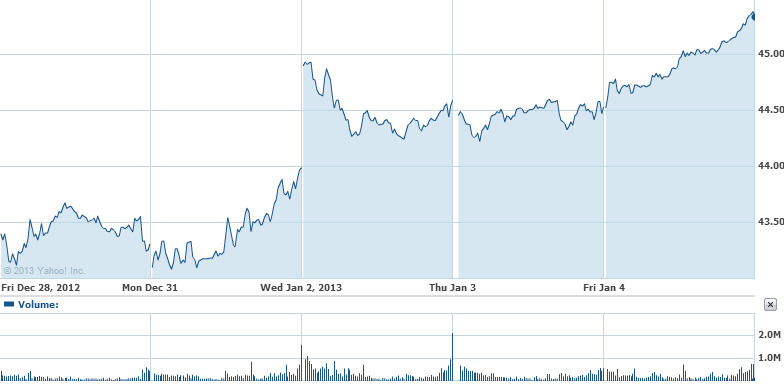 Catalysts are critical to discovering winning stocks. Check out our newest CHEAT SHEET stock picks now.