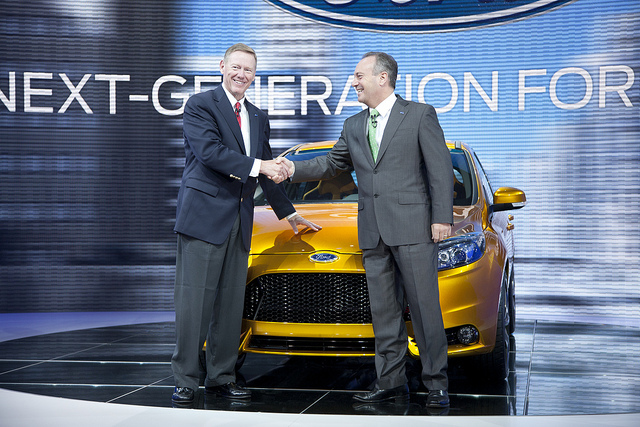 Once Reuters reported Ford (NYSE:F) would hold an unexpected pre-Christmas meeting for analysts, the auto and tech worlds began bracing for news about Chief Executive Alan Mulally and his speculated departure to Microsoft (NASDAQ:MSFT). Though there is substance behind the proposed movements of Mulally, Ford may very well be gearing up for its unprecedented slate of new vehicle releases in 2014.
In fact, the wave of releases is in many ways a showcase for the achievements of Mulally during his tenure at Ford. The chief executive's "One Ford" strategy has built brand reputation worldwide, while its new releases continue to please critics and consumers alike. During Mulally's tenure, Ford presented the Focus as a global car competing to be the worldwide bestselling, introduced a dazzling new Fusion that is excelling in the midsize segment, and furthered the reign of the F-150 as America's top-selling truck.
The recent unveiling of the 2015 Ford Mustang showed Ford is far from finished with its ambitious agenda. The automaker will release a record 23 different vehicles in 2014, which some analysts say is enough reason to prompt the December 18 meeting.