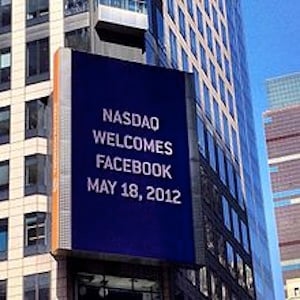 While the cataclysmic fall of Facebook's (NASDAQ:FB) stock from its May initial public offering price of $38 per share chronicled investors' loss of confidence in the social network's profitability, the company's underwriters — Morgan Stanley (NYSE:MS), Goldman Sachs (NYSE:GS), and JPMorgan Chase (NYSE:JPM) — have never lost faith and never downgraded the stock.
What do Facebook bulls have to say?
From its debut price of $38 per share, Facebook shares fell below $18 per share by early September. Despite rallying since then, at Friday's closing price of $25.91, shares were still down by nearly a third from their IPO price. Yet, in every one of the 40 reports issued by the financial institutions that guaranteed the social network's public offering, Facebook's three biggest underwriters have urged investors to buy the company's stock.
Catalysts are critical to discovering winning stocks. Check out our newest CHEAT SHEET stock picks now.
But recommendations to buy shares in Facebook did not prevent analysts from lowering their price targets as the company's stock lost value. Concerns about mobile advertising and new user engagement caused analysts at Morgan Stanley to decrease the firm's price target from $38 to $32 to $31 in October. That same month, Goldman Sachs analyst Heather Bellini cut her price target from $42 to $35. JPMorgan also cut its targets in October. But even as he reduced the price target from $30 to $28, analyst Doug Anmuth wrote in a report seen by The Wall Street Journal that "We remain bullish and believe."