Toyota and BMW teaming up
While Lincoln is re-branding, and Cadillac is adding the trending hybrid technology, Toyota and BMW are close to an agreement that could trump them both. In this agreement, BMW would lease fuel-cell technology from Toyota.
While the hybrid technology that went into the Cadillac is good for getting a bit further on less, fuel-cell technology has the potential to run five times longer and refuel quicker — perks that are hard to ignore. If the deal goes through, it would be the second between the two companies since June, when they decided to jointly develop a hydrogen fuel-cell system, electric powertrains, and lightweight technologies.
BMW was already the highest selling luxury brand in the U.S., and the added fuel efficiency of fuel-cell technology could make it even more popular, not to mention give it an edge on the Cadillac ELR Coupe's technology. Toyota could also use the technology to boost its already popular fuel-efficient models, or even its luxury Lexus brand, which was also far ahead of Lincoln in sales last year.
While the news sounds bad for GM and Ford, they do have time on their side. BMW isn't expected to have a fuel-cell-powered production car until 2020. This could give GM and Ford a chance to develop their own advanced technologies.
Here's how the big 3 automakers traded in the past 5 trading sessions: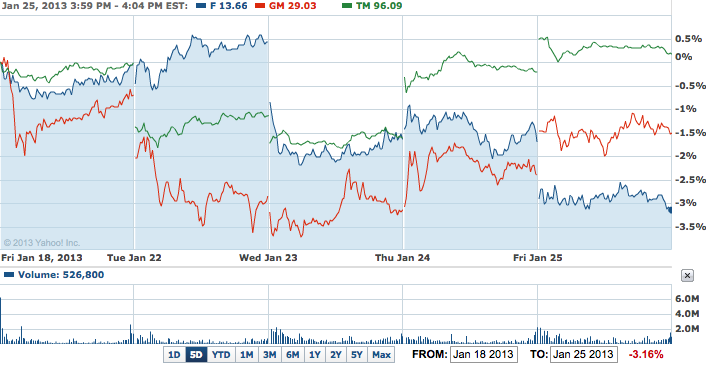 Don't Miss: Peugeot and GM Are Getting Busy.