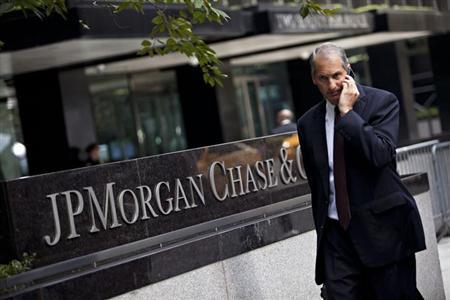 With shares of JPMorgan Chase (NYSE:JPM) trading around $54, is JPM an OUTPERFORM, WAIT AND SEE or STAY AWAY? Let's analyze the stock with the relevant sections of our CHEAT SHEET investing framework:
T = Trends for a Stock's Movement
JPMorgan Chase is a financial holding company that provides various financial services worldwide. The company is engaged in investment banking, financial services for consumers and small businesses, commercial banking, financial transaction processing, asset management, and private equity. Financial services companies, such as JPMorgan Chase, are essential for well-functioning economies around the world. As companies continue to operate and economies expand, leaders like JPMorgan Chase will provide valuable products and services that help financial transactions and services run as smoothly as possible. As one of the better big banks, JPMorgan Chase will lead the financial sector for many years.
JPMorgan Chase reported earnings that exceeded expectations last week, but company CEO Jamie Dimon is worried that rising interest rates could cut into the bank's mortgage profits. Analysts from the company predicted that the housing recovery would continue, despite the possibility of higher interest rates sparked by Federal Reserve Chairman Ben Bernanke's comments about ending the Fed's purchases of mortgage bonds.