Despite September being the worst month for equities on a historical basis, all three major indices closed at multi-year highs today. The expectations of more monetary easing from central banks pushed asset prices higher over the past few weeks, but now those hopes have turned into reality.
On Thursday, the Federal Reserve released its statement on monetary policy, followed by a news conference with Fed Chairman Ben Bernanke to discuss any central bank action, and there was plenty to talk about. The Fed decided to launch an open ended bond purchasing program, being recognized as QE3. It will amount to an additional $40 billion of purchases being made every month. Although the market was expecting some kind of action, the new easing sent financial names soaring.
Don't Miss: Charts Showing How the Apple iPhone 5 Event SCREWED Day Traders
The additional quantitative easing, combined with recent jawbone tactics from the Fed, has been bullish for equities, especially financials. The Financial Selector Sector SPDR (NYSEARCA:XLF), which is often used as the benchmark indicator for banking names, closed at $16.15 a share, its highest level all year. The rise has been powered by the major five banks.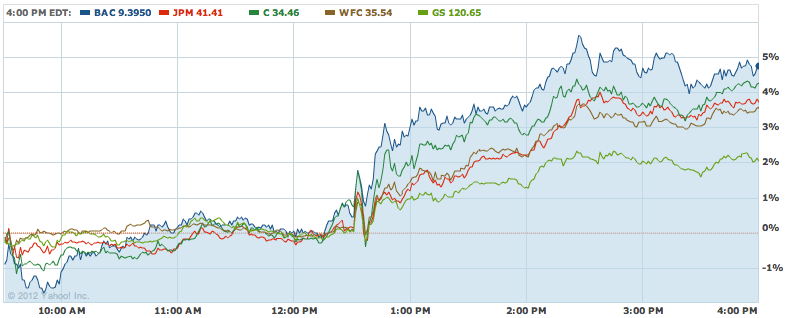 As the chart above shows, the Fed announcement ignited a strong rally for the banks. Bank of America (NYSE:BAC) and Citigroup (NYSE:C) shares both surged more than 4 percent. Meanwhile, JPMorgan (NYSE:JPM) and Wells Fargo (NYSE:WFC) jumped 3.71 percent and 3.55 percent, respectively. Shares of Goldman Sachs (NYSE:GS) closed 2.06 percent higher.
While another sizable bond buying program has once again pushed asset prices higher, at least in the short-term, investors should keep in mind that there is little evidence that past quantitative easing programs have fundamentally improved the economy. Longer-term, a centrally planned economy causes misallocation of resources and unintended consequences that will not be known for years.
Year-to-date, shares of Bank of America (NYSE:BAC) are up 71.76%, outperforming most of its largest competitors by stock percentage growth almost 2-to-1.
Investor Insight: Gold & Silver: Don't Call It a Comeback
Catalysts are critical to discovering winning stocks. Check out our newest CHEAT SHEET stock picks now.