The original full-sized iPad may have helped Apple (NASDAQ:AAPL) to its current dominance in the tablet market, but the iPad mini will carry the company in the future, according to NPD DisplaySearch.
"The launch of the iPad mini in late 2012 has been seen as an acknowledgement by Apple that smaller size tablet PCs would become a larger part of the market than larger sizes," NPD analyst David Hsieh wrote in a report. "Key aspects are more attractive prices and the ability to hold the device in one hand rather than two."
The market research firm said that shipments of 9.7-inch tablets like the full-sized iPad "collapsed" in January, falling to 1.3 million from 7.4 million in December. Meanwhile, shipments of tablets with displays closer to seven inches, such as the iPad mini and Google's (NASDAQ:GOOG) Nexus 7, grew from 12 million to 14 million.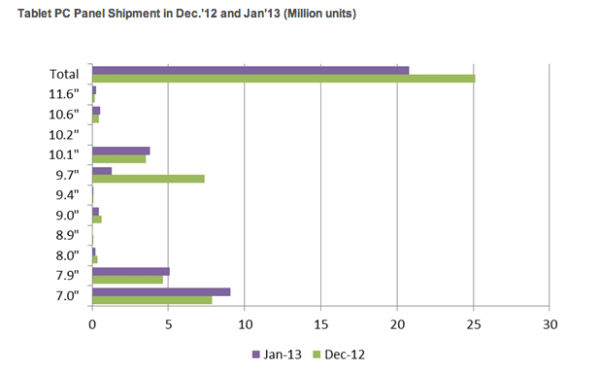 (Chart courtesy of NPD DisplaySearch)