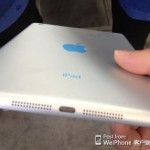 Rumors that Apple (NASDAQ:AAPL) is preparing to launch the next generation of iPad Minis sometime this year got an additional boost with the emergence of some leaked photos of what is supposedly the back shell for the new iPad Mini. The iPad Mini photos first appeared in a post on the Chinese-language WeiPhone forum on Thursday and were soon  reposted all over the web. Despite being unverified, the photos offer a tantalizing glimpse of what type of display the next generation of iPad Mini may contain.
The casing in the photos has an unusual blue apple logo and appears to be slightly thicker than the current generation of iPad Minis. If these photos are legitimate, they would seem to confirm the rumors that the new iPad Minis will include a Retina display, which requires more space to accommodate additional RAM for faster processing. The Retina display would also give the new iPad Mini upgraded video rendering capabilities, as well as a brighter screen.
The new iPad Mini is highly anticipated, especially because of rumors that it will have the new Retina technology that Apple has widely publicized. Apple has yet to confirm any rumors though.
According to Digitimes sources, AU Optronics (NYSE:AUO), the manufacturer of the original iPad Mini display, is currently "working on panels for Apple's next-generation iPad Mini."
Don't Miss: Does Apple Need to Reinvent?