Amazon.com Inc. (NASDAQ:AMZN), the world's largest online retailer, is trading mostly flat ahead of Thursday's earnings release. After the closing bell today, the company will report financial results for the first quarter. Investors are not expecting much on the bottom line, but expectations are high for the top line.
On average, analysts are expecting Amazon to report a profit of 7 cents per share, representing a drop of 84.1 percent from a year earlier. During the past three months, the average estimate has moved down from 39 cents. The company topped estimates last quarter after missing forecasts the quarter prior. In the fourth quarter, profit declined 57.5 percent to $177 million, but still exceeded expectations.
Don't Miss: Is Amazon Taking Its Cues From Apple?
Today's earnings report will most likely focus on sales. Amazon has a business model where they are willing to forgo short-term profits in order to span its customer base. On the top line, Amazon is looking to add onto a trend of double-digit year-over-year percentage revenue increases for the past four quarters. Over that span, the company is averaging revenue growth of 41.9% each quarter. For the first quarter, analysts are projecting an increase of 30.4 percent in revenue from a year earlier to $12.86 billion.
Bloomberg's Jon Erlichman explains, "Amazon spends a lot to build out their warehouses and discount as much as they can. They sell their Kindle products at very low prices, as low as they can go. That means the bottom line is never very robust for Amazon."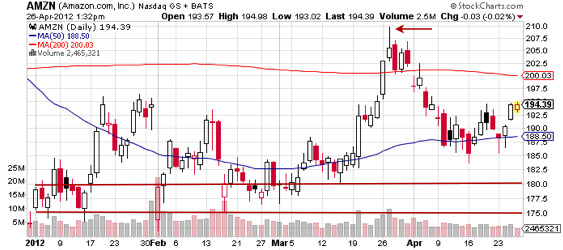 As the chart above shows, Amazon shares have been on a bumpy ride this year. Shares climbed to as high as $210 in March, but have since declined to about $194. Today's earnings release and revenue number will be the catalyst needed to send shares back above the $200 level. As long time Wall St. Cheat Sheet readers know, a 'Catalyst for a Stock's Movement' is the 'C' in our CHEAT SHEET investing framework. However, if revenue disappoints, shares could test support in the $175-$180 range.
Shares of Amazon have gained 12 percent year-to-date, lagging other well-known technology stocks such as Apple Inc. (NASDAQ:AAPL) and eBay Inc. (NASDAQ:EBAY), which have gained 49 percent and 33 percent, respectively. Google Inc. (NASDAQ:GOOG), which has been losing market share on its Android system to Amazon's Kindle Fire, has seen its stock decline 5 percent year-to-date.
Investor Insight: Apple Pounds Critics into Applesauce