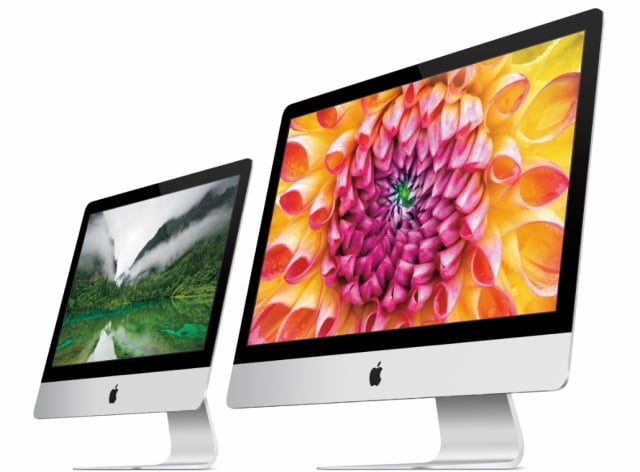 Consumers looking at Apple's (NASDAQ:AAPL) iMac line and wishing there was a slightly cheaper option are in luck. MacWorld reports that Apple has debuted a new addition to the line that undercuts what was the least expensive option by $200. The new 21.5-inch iMac starts at $1,099 and has a 1.4GHz dual-core Core i5 processor with TurboBoost of up to 2.7GHz, compared with the 2.7GHz quad-core processor in the previous baseline model, priced at $1,299 and also still available as part of the line.
The new iMac model also comes standard with 8GB of RAM, a 500GB hard drive, and Intel HD Graphics 5000 chip. It includes the same features as other iMac models, including four USB 3.0 ports and two Thunderbolt ports. Consumers can order additional storage in the form of a 1 TB hard drive, priced at $50, a 1TB Fusion Drive at $250, or 256GB of flash storage at $250.
The other iMac models have remained the same, and the new model is $200 cheaper than what was the line's least expensive model, the 2.7GHz version. That model, priced at $1,299, now appears as the mid-range model of three 21.5-inch iMacs. In the line of 27-inch computers, there isn't a model with performance comparable to the new entry-level addition to the 21.5-inch line.
As MacWorld points out, the introduction of the lower-priced 21.5-inch model echoes Apple's April price cut to its MacBook Air line, which the company marketed as a move to make an Apple laptop more accessible to a wider range of consumers. However, unlike with the current move to expand the iMac line, in April the company upgraded the MacBook Air line (slightly) when it dropped prices of every model by $100.