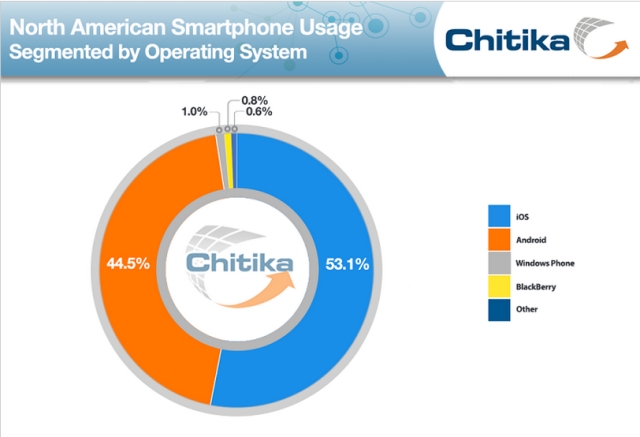 Apple's (NASDAQ:AAPL) iOS mobile operating system accounts for the majority of smartphone Web traffic generated in North America, according to the latest data from online ad network company Chitika. Chitika examined hundreds of millions of U.S. and Canadian online ad impressions during an approximately three-month period that ended on April 30. Based on the impressions derived from its vast network, Chitika estimated that Apple's iPhone accounted for 53.1 percent of the mobile Web traffic during this period.
Android — the open source mobile operating system developed by Google (NASDAQ:GOOG) (NASDAQ:GOOGL) — achieved a second place ranking during the same time period with a 44.5 percent share of mobile Web traffic in North America. Although Chitika's latest study didn't break down Android's market share by manufacturer, a previous study released by the ad network company in March showed that Samsung (SSNLF.PK) accounted for a 55.5 percent share of North American Android-based Web traffic.
Meanwhile, Microsoft's (NASDAQ:MSFT) Windows Phone mobile operating system moved into third place in North American web traffic usage. However, this was primarily due to the continuing usage share decline of struggling Canadian smartphone maker BlackBerry (NASDAQ:BBRY). Although Windows Phone usage remained essentially flat during the three-month time period, previously third-ranked BlackBerry saw its market share slip from over 1.0 percent to 0.8 percent. BlackBerry's decline allowed Windows Phone to claim the No. 3 spot in North American mobile Web traffic share. However, Windows Phone still only accounted for a paltry 1.0 percent of mobile Web traffic in North America. Another 0.6 percent of Web traffic was attributed to "Other" mobile operating systems.