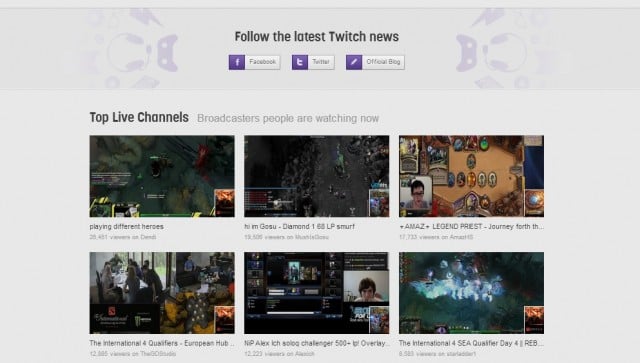 YouTube — owned by Google (NASDAQ:GOOG) (NASDAQ:GOOGL) — is out on the prowl for ways to make more money in ad bucks. To do that, it needs to find either more viewers or content that interests advertisers more, or both. While YouTube naturally is seeking out ways to do these on its own, it may also be looking at a high profile acquisition to boost it further in the right direction. That acquisition could be Twitch.
Twitch.TV is a major player in video game media. Its platform allows gamers to record their gameplay and broadcast it live to the website, where watchers can see the gamer's exploits and adventures, wins and losses, all in real time. Just how major is it? The most major. According to broadband network solutions company Sandvine, Twitch.TV "has established itself among the top-15 applications on many fixed networks across the globe, and now generates more traffic than HBO GO on U.S. networks."
Qwilt, a provider of media analytics, reported that Twitch is the "No. 1 top live streaming video site in the world." With 45 million monthly users streaming 12 billion minutes each month, it's no surprise Twitch was able to take that rank. It accounts for close to a half of all live streaming in the U.S., followed at some distance by WWE, MLB.COM, ESPN, and even Justin.TV — the website from which Twitch spun off. Though Google does have a live streaming service within YouTube, it is not nearly as popular as Twitch's service. This may be part of why YouTube is attempting to buy Twitch, as The Wall Street Journal reports the media giant is in early stages of doing.