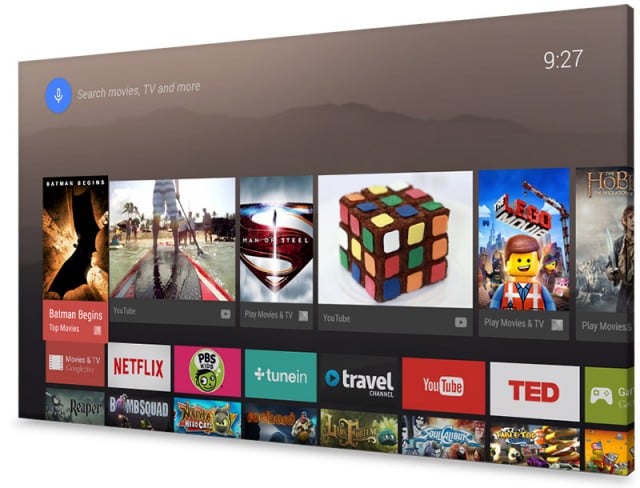 Google (NASDAQ:GOOG) (NASDAQ:GOOGL) announced Wednesday that it's giving TV another try, unveiling Android TV, a version of its operating system made specifically for TV purposes. As Wired reports, Android TV is designed to be an entertainment hub, like similar devices such as Apple (NASDAQ:AAPL) TV, the Roku Streaming Player, or Amazon (NASDAQ:AMZN) Fire TV.
Android TV users will be able to stream media using televisions, set-top boxes, and game consoles running the specialized version of the operating system. As with the original Android mobile operating system, Google will look to third-party manufacturers to create the devices that the platform runs on, and Sony (NYSE:SNE) 4K televisions and Philips televisions will support Android TV this fall at the same time that boxes by Razer and Asus will be available.
The Android TV platform also supports Google Cast, and users will be able to stream content from the web browser of an Android device to the television, like iOS users can with Apple TV. Users will be able to control the interface with a gaming controller, a remote, an app, or even a smartwatch running Android Wear.
Android TV will have its own store, which will launch this fall when devices are available. In addition to streaming audio and video, the platform will support a variety of custom-made apps, including Netflix (NASDAQ:NFLX), Hulu, Pandora (NYSE:P), plus Google apps like YouTube, Hangouts, and Play Movies. Google Search functionality is also built into the interface, allowing users to find media by a variety of criteria, and can be controlled with voice commands. The platform also offers gaming capability, and will enable users to play Android games on their television, and use Android devices as controllers.
AppleInsider describes the Android TV interface as "relatively conventional." While the same could more or less be said of a lot of the features that Android TV includes, that's primarily because Google is technically catching up to competitors like Apple and Amazon, who have already released the products that set the current precedent in the market. But critically, Android TV already has something that existing systems don't: an easy way for the app developers who already create apps for Android to bring them to Android TV without working directly with Google as a gatekeeper to the Android TV ecosystem.