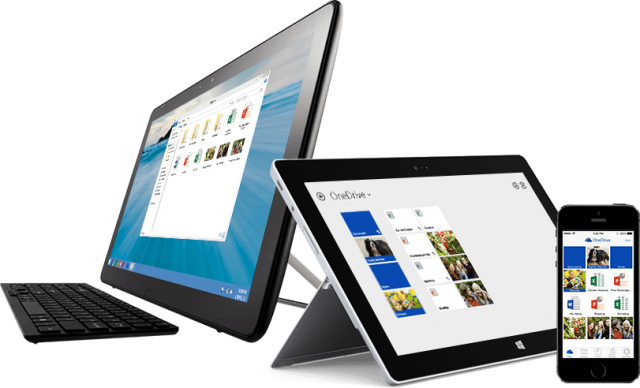 Microsoft (NASDAQ:MSFT) is getting serious about the impending cloud storage war with Apple (NASDAQ:AAPL) and Google (NASDAQ:GOOG) (NASDAQ:GOOGL). In a post on the OneDrive Blog, Microsoft made an announcement that the company is making three major changes to the pricing structure of its cloud storage service, aggressively taking aim at Google Drive and Apple's upcoming iCloud storage services and other cloud storage services, like Dropbox and Box. Here are the three changes that Microsoft is making to its OneDrive storage capacity and pricing structure.
1. Free storage will be increased to 15 GB
Microsoft announced that it will more than double free storage, upping it to 15 GB from 7 GB and matching the free storage offered by Google Drive. This storage is accessible to users via OneDrive apps for iOS, Android, and Windows. It's also available on the web. Like Dropbox and the upcoming iCloud Drive, it can store all types of files, and Microsoft says that the change will accommodate the needs of users who store increasing numbers of files, including media like photos and videos, in the cloud:
"Our data tells us that 3 out of 4 people have less than 15 GB of files stored on their PC. Factoring in what they may also have stored on other devices, we believe providing 15 GB for free right out of the gate – with no hoops to jump through — will make it much easier for people to have their documents, videos, and photos available in one place."
2. Office 365 subscriptions will now include 1 TB of storage
All tiers of subscriptions to Office 365 will include 1 TB of OneDrive storage, up from 20 GB. Office 365 Home, priced at $9.99 per month, will include 1 TB per person for up to five people. Office 365 Personal, priced at $6.99 per month, and Office 365 University, priced at $79.99 for four years, will include 1 TB. Office 365 syncs Word, PowerPoint, and Excel documents among devices, including the iPhone, iPad, Android devices, Windows devices, and the web Office apps. As announced in April, OneDrive for Business customers receive 1 TB of storage per person.
3. Storage prices will be reduced at all levels
The prices for all levels of OneDrive storage will drop approximately 70 percent. For consumers who want to use OneDrive but don't need a subscription to Office 365, prices to add storage to the existing free storage capacity have dropped. Further, 100 GB will cost $1.99 per month, down from $7.49, and 200 GB will cost $3.99 per month, down from $11.49.
The updates will take effect in the next month, with current subscribers' accounts being automatically updated. The announcement comes ahead of the anticipated launch of Apple's iCloud Drive, a cloud storage service that will allow users to store, view, and sync all types of files across Mac, iOS, and Windows. Apple says that the service will enable users to work on the same file in multiple apps, and make edits that automatically sync to all devices.